When I found out I'd be teaching 2nd-grade again, I immediately started scouring the Internet and my Pinterest boards to get ideas for classroom management and classroom decor. Several things stood out to me, but Bitmoji classroom ideas were my favorite for several reasons!
I've never had a reason to use Bitmoji for the classroom, and while I love all the things I found, I'm a minimalist. I don't want to cover my whole room with Bitmoji's. Little did I know how popular Bitmoji Classrooms would become. Plus, they are so useful to our digital natives. While it was cute previously, they can be deemed essential in our blended learning environments.
How to Make a Teacher Bitmoji
First things first, if you don't know about Bitmoji's, they are avatars you create using the Bitmoji app. We use them when text messaging or adding to a Snapchat or IG Story. One of the best parts of a Bitmoji avatar is it works on any device.
To create your own teacher Bitmoji, download their app on your phone, and it walks you through the process. However, if you want a more step-by-step guide, you can find it here.
Now that you know what a Bitmoji is let me share with you five ways you can use them in your classroom
1: Bitmoji Classroom Decor
There are a lot of Bitmoji classroom ideas for classroom decor. You can add your Bitmoji to:
Classroom Motivational Posters
Classroom Rules
Schedule
Literacy and Math Rotations
Voice Level Charts
The school I work in has a voice level chart. So I decided to recreate it with my Bitmoji. Here is part of the finished product:
2: Bitmoji Classroom Punch Cards
Since I didn't want to fill my whole room with Bitmoji, I decided to use just a few of the classroom management ideas I found. One of the rewards I use is Bitmoji punch cards. Students receive a punch card, and every time they show good behavior (or good work), they receive a punch. When their card is full, they turn it in for a reward. Here is an example:
The sky is the limit in class, but what if your students spend more time in a virtual learning environment? Besides using Bitmoji's as a physical classroom management tool, you can use it as a reminder of rules virtually. Post your standards and expectations as well as any other announcements.
You might also want to consider creating a digital Bitmoji classroom.
3: Digital Bitmoji Classroom
A Bitmoji Classroom is a virtual classroom that is set up and created by the teacher. The class has interactive elements that allow students to find the teacher's assignments, documents, and websites. Teachers add their classrooms to their Google Classroom or Google Slides.
Because you can add your personal touch to a Bitmoji Classroom, you can create a classroom environment even when you're not in the classroom. We all want our students to feel comfortable in their environment. Your online class can be as "you" as your actual classroom is, and it has some fantastic features to help your students be successful.
Bitmoji classrooms work with any subject area or any grade level. Create a class for your special ed students, your ELL's, or even your fine arts class.
If you'd like to get some more ideas or learn how to create your own Bitmoji classroom, click here.
4: Bitmoji Anchor Charts
Another great way to use Bitmojis are with anchor charts. You can spice up your anchor charts, graphic organizers, and presentations by adding your own personal avatar. I added my Bitmoji to my RAN Strategy Chart below:
One tip for adding your Bitmoji to your creations, is to add the Bitmoji extension to Google Chrome. All you have to do to grab your avatar is:
Click on the extension
Search the content
Right-click the picture to copy
Then paste in your document
5: Bitmoji Digital Stickers
Last but certainly not least, I am using Bitmoji as stickers for student work. I am doing this both digitally and printed. It's been fun to add these stickers to digital work.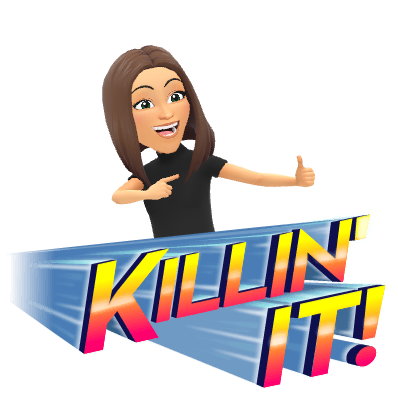 One thing I'd love to do is allow students to create their own Bitmoji's. Their avatars could be added to the stickers, too! However, this might be a bit harder than it sounds because of how Bitmoji's are created.
Bitmoji is just one way to add a personal touch to your classroom, both in-person and online.